How We Started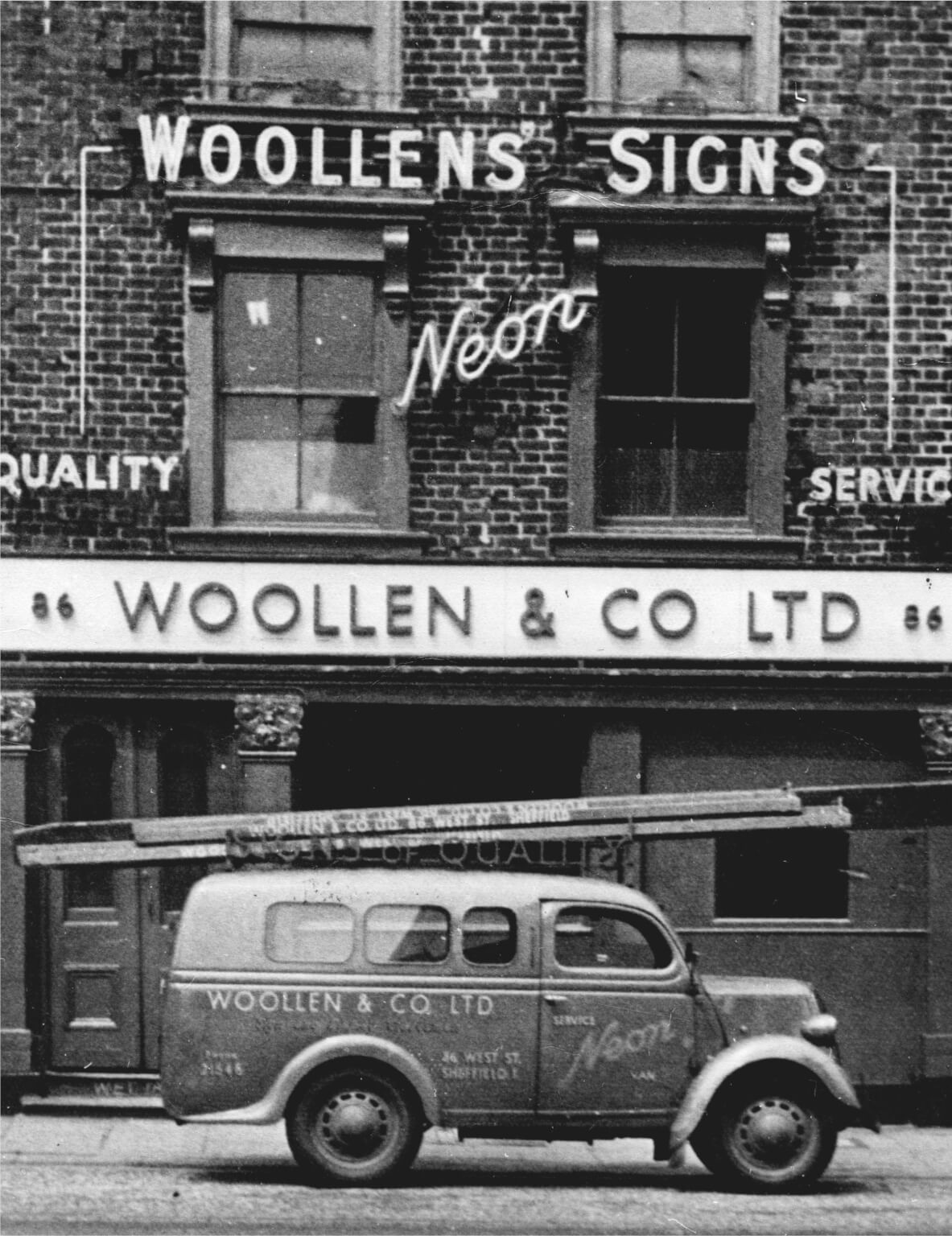 During the 19th Century Sheffield emerged from being a small industrial town into a city of international repute when it became a city of steel makers, cutlers and silversmiths.
The prosperity of the town was marked during the Victorian era by the building of banks, schools, offices, theatres, hotels, markets and eventually a new town hall which was officially opened by Queen Victoria herself.
Large factories of the important steel and cutlery firms were built along the Don Valley with imposing entrances emblazoned with signs, trademarks and motifs. Gentlemen's clubs, coffee houses and department stores were all superbly furnished with gilded wooden letters and signwritten windows.
It was during this flourishing period in 1883 that Edwin James Woollen, a signwriter, and Frederick Ibbotson, a lithographic printer, decided to form the partnership of Woollen & Co. at 14 York Street and develop a business, which has gone from strength to strength for over 100 years.
By 1897 Woollens had become a Limited Company based at 35 Carver Street. The company was also awarded seven gold medals for excellence, the earliest being presented in 1892 from the Yorkshire Trades and Industrial Exhibition.
The 20th Century saw Woollens at the forefront of new developments within the sign industry. Illuminated signs had become fashionable and in 1914 Woollens became the agents for 'Electric Lamp Letters Signs'. By the 1930's neon tubes were introduced, but during World War 2 the prohibition of illuminated signs meant Woollens had to adapt once again.
Sheffield was heavily blitzed during the war and the redevelopment and rebuilding of the city in the 1950's and 1960's proved to be one of the most successful periods in the firms history. From its base at 19 Love Street, in order to survive over 100 years of successful trading, Woollens had to adjust their sign production methods to meet the requirements of the late 20th Century.
In 2005 Woollen & Company Limited were bought by The Sheffield Co-operative Society and were integrated into their own in house property services division, initially behind the White Rose at Handsworth and then finally into new premises at Holbrook Industrial Estate, Halfway.
In 2007 Sheffield Co-op were taken over by The Co-operative Group leading to the closure of the property services division along with Woollen & Co Ltd…………………………………………..see about us.